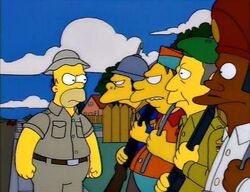 I was sitting at work the other day, shuffling through a pile of ravaged books that needed extensive work, when Lance, one of the library's army of custodial technicians stopped by my work-station. I was watching a tape of this year's Colts victory to see what different in that game than in the 10 losses. Now Lance is a nice enough guy, but he is a typical Vikings' fan, on board when they win, and a screaming child when they lose. But, he likes to watch old Packer/Vikings game tapes with me when we're both too hungover to work, so we get along. Today Lance asked me, "Who do you want in the playoffs, my Vikes or da Bears?" I glanced up at him, and just smiled and shook my head. "You don't get it do you?" I asked. "Get what?" "As of Sunday, at about 3:30, the 2008 NFL season is over, and I start thinking about 2009." "Come on, man, it's the playoffs, who do you want to see from the North?" "Neither, if somehow they both could not make it, then I would be happy, since that's not the case, I tune out." " No way, you gotta choose the Bears, right? You hate the Vikings, man," he says. "Lance, asking me to choose a team from the NFC North other than the Packers to be in playoffs, is similar to asking me whether I want a
sack-beating
or my fingernails pulled out. I would rather not have either, and avoid both at all costs." Lance looks at me shakes his head and mutters, "Sore loser." I chuckle and turn back to the game.
Abbreviated Views from the Hillside:
Who's the big winner today? Miami Dolphins. Looks more and more likely, that the Favre will trade will only get the Packers a third round pick, when the cast-off Chad Pennington rides his magical Dolphin into Miami today. It's a shame because Thompson has hit second-round gold with his picks, we could have used another.
Jarret Bush-league. I don't have have to say much about your performance on Monday night, you let your play speak for itself.
Enjoy a victory for the last game. It's been awhile.
Get ready for an off-season of Ranting! Fear it!