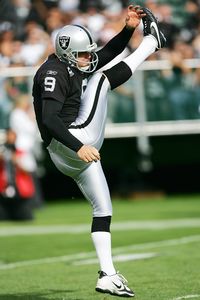 Like
I said a couple weeks ago
when Mike Vandermoose was screaming about the sky falling and the Reds invading a high school in Colorado, everybody is 0-0. This offseason has brought much speculation about free agency and here at the Ranter, we are no different. Robert and I have been discussing free agency with a passion. We have also been hearing a lot about who fellow Cheeseheads are clamoring for. The usual suspects come up: Peppers, Haynesworth, Suggs. I'll be the first to admit - signing one of those guys would be fantastic, but I see another guy who could come in and have an immediate impact for the Packers. A guy who will probably be available and at a much cheaper price. Shane Lechler, come on down. You're the next contestant on "The Punter is Right".
Lechler, currently with the Raiders, is a six-time All-Pro and the reigning NFL record holder for punting average (46.5). The Packers probably lost at least two games last year due the terrible punting - punting that wouldn't have made it out of the regional finals of the Punt, Pass & Kick competition. Bringing it Lechler to settle down the gameshow atmosphere that surrounded the punting game last year would be a step toward erasing that 6-10 record from memory. Lechler's average in 2008 was 48.8, 2.3 yards ABOVE the NFL record (the record he holds) for average yards/punt. The truth is, the Raiders are so screwed up at so many places, they can't afford to keep this guy around which means he should be snapped up, as soon as possible.
Now, a plan should always be in place if free agent targets and draft targets are no longer available. This would mean we would go into next season with Jeremy Kapinos as our punter. Recently it was revealed that the Vikings were looking into having
Jay Glazer
get Tavaris Jackson involved in
Mixed Martial Arts
to increase his flexibility (yes, Jay Glazer does MMA). Robert pointed out, rather astutely, why not just do
yoga
? To his credit, Tavaris said he wasn't interested in MMA and being Glazer's dojo partner. But this got me talking to D the Dragon, one-time Ranter contributor and semi-frequent commentor, about who could best be used to mentor Jeremy Kapinos. It was decided that the toughest
Zen-Buddhist bouncer
ever to set foot in Texas would need to be called in to Green Bay to continue Kapinos' development. A guy who could roundhouse a football sixty yards if he so chose. I know you have supposedly filled out your staff, McCarthy, but if you have any hope of avoiding last year's embarassment in the punting department, you need to call in Dalton and have him bring his roundhouse kick and wicked mullet. He can also work part-time security at Lambeau if you need to justify his salary.
Just sign Lechler, and we could avoid the monster truck issues that would undoubtedly follow Dalton.