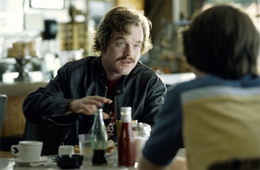 I'll be completely honest and forthright with you all right now, I hate draft hype. I think it's 90% B.S. and 10% advertising revenue. Well, that was probably the old ratio, now with the brain-trust down at NFL Headquarters stretching the draft out this year, it's probably more like 80-20, but people can come up with statistics to prove anything, 14% of all people know that.
The so-called experts proclaim to know who's going when, what teams need what, who they're going to draft, and whether the GM wears boxers or briefs. This is a
house of lies
! Then you take the Packers, and the so-called experts who already know nothing, know even less. It would take Professor
Charles Xavier
to actually know what Ted's going to do with each of his picks, and that's only if he ripped it from Ted's mind. Thompson will take a draft prediction and destroy it before you can say, "trade-down". From here on out, I am only interested in what is real. Real people, real feelings, that's it. That's all I'm interested in..... But hey, mock drafts drive traffic right? Ha! You bet they do.
So now you think I'm going to do a Packers' mock draft don't you? Nope, not even close, so
move along
if that's what you're after. Because mock drafts aren't cool, and regardless if the only true currency in this bankrupt world is what you share with someone when you're uncool, I refuse to stoop to doing a mock draft. 1) Because I'd have a better chance hitting the jackpot at Oneida Casino than accurately predicting who the Packers will take and 2) I've already found the sure-fire means for figuring out the future of the Packers:
Listen to THIS with a candle burning and you'll see the Packers entire future.
As good friend of the Ranter, D the Dragon, said the other day: "ESPN? Mel Kiper? He's a drunken buffoon posing as a poet. Give me The Packer Ranter. They got the courage to be drunken buffoons, which makes them poetic."
So.....who goes at 23?